The Svanehøj service department in Singapore thrives with new LNG competencies
In just two years, Svanehøj Service Solutions in Singapore has grown from a one-man band to a department of over 20 employees. A successful business strategy focusing on full-scope service on LPG and LNG tankers has seen the department blossom.
The docking season for LPG and LNG carriers is well underway, and Svanehøj's service team in Singapore is running fast. Currently, 14 service engineers, including four colleagues on loan from Denmark, are working on various projects around the Port of Singapore.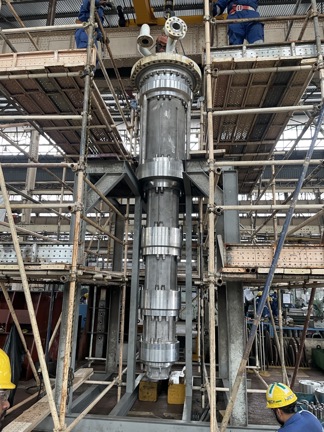 "It's busy days here in Singapore. In our workshop, we are currently working on almost 100 safety relief valves from two different vessels as well as several MYCOM compressors", says Martin Lund Jensen, Service Manager for Svanehøj in Singapore.
CCS acquisition is showing results
The recent acquisition of Complete Cryogenic Services (CCS) has brought strong capabilities in submerged LNG pumps to the service department. With the experienced CCS engineers onboard, Svanehøj has just completed an overhaul on six Nikkiso booster pumps, each six meters long, weighing nine tons.
"With CCS as a part of Svanehøj Service Solutions, we now have the references and skills to become LNG shipowners' preferred service partner. And the results are already starting to show. I believe that in a short time, we can reach 50 LNG vessel full-scope dockings per year", says Martin Lund Jensen.
Svanehøj has made significant investments in Singapore over the past few years. A new 1,000 m2 workshop, built in 2022, and a continuous staff expansion following the acquisitions of FORCE Technology's Marine Equipment Service (2021) and Wärtsilä Tank Control Systems (2022) have created the basis for growth.
"The shipowners prefer local service partners. We are close to the customers out here and can go through our pre-docking inspections face-to-face with the customer. It builds trust and stronger relationships", says Martin Lund Jensen.
Like a group of car enthusiasts
Within the last few weeks, Martin Lund Jensen and his colleagues have welcomed a new Superintendent, an Assistant Superintendent, and a Service Engineer. Although the schedule is busy, ensuring the best onboarding and in-house training for the many new employees is the highest priority.
"We have a good reputation as a workplace, and people enjoy working here. We are like a group of car enthusiasts that meet up because of our shared interest and enjoy fixing machinery together", explains Martin Lund Jensen.
New job openings in Singapore
The Singapore department will expand further in the coming months, with new co-workers expected to join the team. Do you want to be the next member of Svanehøj's service department in Singapore? Find your next position here: svanehoj.com/career/