Svanehøj's patented DW fuel pump is chosen as part of an ambitious project that aims to have an ammonia-powered ship engine ready within a few years.
Green ammonia is one of the top prospects for a climate-friendly fuel for the shipping industry of the future.
For Svanehøj, it is therefore of major importance that the company's patented DW fuel pump will now be part of an ambitious project that is seeking to develop a complete propulsion system based on green ammonia.
"The goal of the project is to develop a prospect for the CO2-neutral ship engine of the future, and the consortium has chosen Svanehøj as a supplier because of our reliable and extremely well-proven technology. The design of our DW fuel pump is based on more than 50 years of experience in developing cargo pumps for LPG tankers. For us, this is a fantastic opportunity to show that Svanehøj is part of the solution to shipping's climate challenge," says Johnny Houmann, Sales Director at Svanehøj.
Svanehøj has extensive experience of handling ammonia. The company most recently delivered a solution for Babcock LGE/Hyundai Mipo where the DW fuel pumps supply the main engine with LPG and are simultaneously used for sampling ammonia and other cargoes.
Read more about this project here:
www.svanehoj.com/news/deepwell-dw-fuel-pump-from-svanehoj-will-pump-both-lpg-and-ammonia/
Built to meet full fuel flexibility

As a leading manufacturer of marine fuel and cargo pumps, Svanehøj has been looking into future fuels for years. As a result, the company is able to provide pumping solutions with full fuel flexibility – today and tomorrow.
"Power-to-X is a clear prerequisite for international shipping to achieve the goal of a 50% reduction in greenhouse gases by 2050. However, no one yet knows what types of fuel will become dominant. It is therefore of great strategic importance that we can offer a technology that enables a ship to comply with both current and future requirements," says Johnny Houmann.
In other words: The DW Fuel Pump is built to support the shipping industry in a long and very complex transition from fossile fuels to clean fuels based on renewable energy sources. Ships launched in 2025 might still be at sea in 2050. The DW Fuel Pump is a futureproof investment, as it allows shipowners to change a ship's fuel type according to changes in the market and in technology. This prolongs the life of the vessel.
Want to know more?

The Svanehøj DW fuel pump is a classic multistage centrifugal pump which enables ships to comply with both current and future requirements, as it is fully compatible with all liquid gas fuels as well as synthetic carbon-free electrofuels.
By placing all sensitive components such as the electric motor, seals and bearing systems outside the tank, Svanehøj has reduced maintenance costs considerably and removed one of the primary contributors to temperature rise and boil off gas.
The pump is designed for a 25,000 hour / 5-year service interval. But if needed, the motor, bearing, and pump can be easily accessed at any time between regular service dockings – regardless of tank content and the liquid level inside the tank.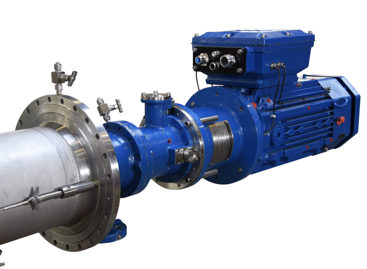 More info at https://www.svanehoj.com/business-area/fuel-pumps-en/
More news
Our latest news provides you with information from our world of deepwell and in-line pump technology.